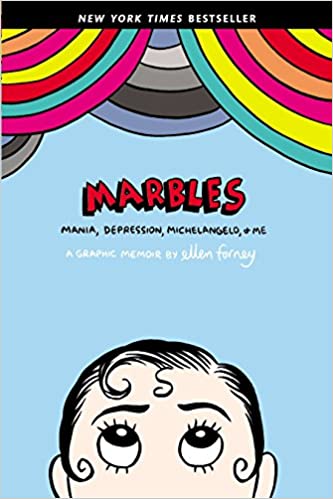 In Marbles: Mania, Depression, Michelangelo, and Me, cartoonist Ellen Forney explores the relationship between "crazy" and "creative" in this graphic memoir of her bipolar disorder, woven with stories of famous bipolar artists and writers.
Shortly before her thirtieth birthday, Forney was diagnosed with bipolar disorder. Flagrantly manic and terrified that medications would cause her to lose creativity, she began a years-long struggle to find mental stability while retaining her passions and creativity.
Searching to make sense of the popular concept of the crazy artist, she finds inspiration from the lives and work of other artists and writers who suffered from mood disorders, including Vincent van Gogh, Georgia O'Keeffe, William Styron, and Sylvia Plath. She also researches the clinical aspects of bipolar disorder, including the strengths and limitations of various treatments and medications, and what studies tell us about the conundrum of attempting to "cure" an otherwise brilliant mind.
Darkly funny and intensely personal, Forney's memoir provides a visceral glimpse into the effects of a mood disorder on an artist's work, as she shares her own story through bold black-and-white images and evocative prose.
Cartoonist Ellen Forney is the author of New York Times bestseller Marbles: Mania, Depression, Michelangelo, and Me, and the 2012 "Genius Award" winner in Literature from Seattle's The Stranger. She collaborated with Sherman Alexie on the National Book Award-winning novel The Absolutely True Diary of a Part-Time Indian, created the Eisner-nominated comic books I Love Led Zeppelin and Monkey Food, and has taught comics at Cornish College of the Arts since 2002. She grew up in Philadelphia and has lived in Seattle, Washington since 1989. Ellen swims and does yoga, and fixes things with rubber bands and paper clips.